Project Details
Man-made lakes& Beaches
Recreation Centers & Convenience Stores
Vaastu friendly fengshui layout & design
Pleasurable greens and a lot more all around
Reticulated gas supply
Round the clock security
Spread over sprawling 100 acres of prime land on Yamuna Expressway
Available Plots in various sizes – 100 sq yds. /150 sq yds./200 sq.yds.
Available Villas in various sizes – 90 sq yds. /125 sq yds./200 sq. yds. / 500 sq. yds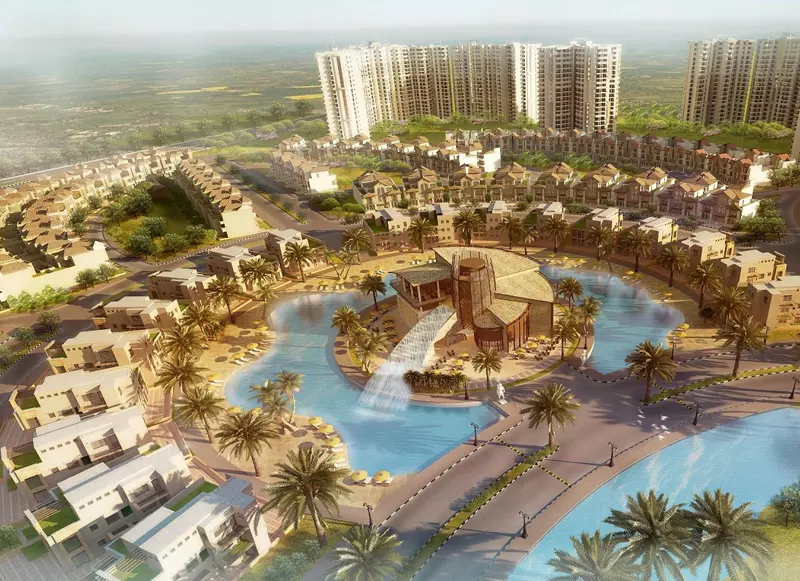 Connectivity
Metro is Operational up to Pari Chowk
Next Phase of Metro is proposed up to Dankaur.
Mono Rail proposed to Agra
10 minutes distance from Boraki Rly Station
Well connected with Noida - Greater Noida Expressway
60 & 45 Mtrs Sector Roads
USP OF Holiday Village
Low Air Quality Index as compared to other projects
+200 Families already residing at the Township
3 Side Open Plot
5 min drive from Film City
PRE-CAST Technology used for construction
Directly Connectivity with Yamuna Expressway
Connected with 120m Ring Road & Eastern Peripheral
World Class Club (approx.) 50000 sq. ft. inside the township
Nearby Landmarks – Noida International Airport, Film City, Education Hub, Electronic City, Food Park, Patanjali ,etc..
How to Book Your Future Home Now!
Fill The Query Form
Mention your details to reach you along with any specific message. Our team will contact you to discuss your requirements and details of the Project Plan to assist you best. You can go through the given Brochure beforehand.
Talk To Our Experts
Our experts will resolve your queries in timely manner so that you can save your time to encash special pre launch offer.
Fill Your Booking Form
Our support team will guide you throughout the process to fill the form. Once documentation is complete along with the required booking amount. Our support team will provide the confirmation and unit information.
Holiday Village : The Home of Your Dreams
Man-Made Beach Club
Low Density Township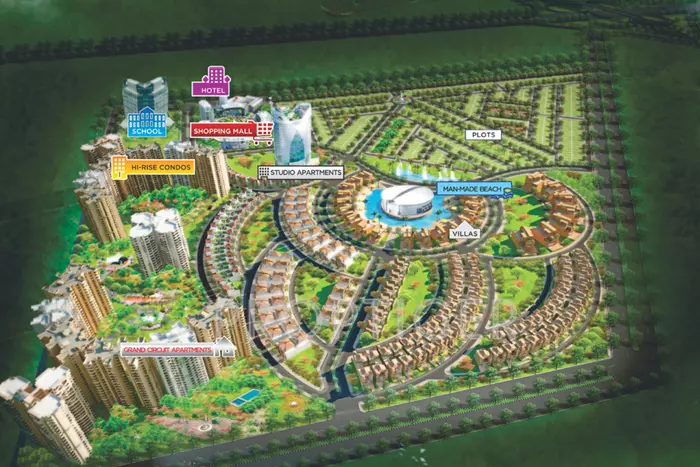 Surrounded By Greenery And Plants
Amenities
Clubhouse

Coffee Bar
Gymnasium

Parking

Swimming Pool

CCTV Surveillance
Play Area
Hi-speed Elevators
Power Back-up
Open Landscape

Jogging Track
Party Lawn
USP Of YEIDA
Jewar Airport to be India's biggest. Area of Noida International Airport is 5845
Hectare=14443 acres (approx.), 2.5 times bigger than IGI Airport.
1000 Acre Proposed Film City at 5km drive from Township
LOW AIR QUALITY INDEX AS COMPARED TO OTHER AREA
UP Govt. approves 330 crores for Jewar Airport Land Acquisition. Airport to be developed in 4 phases. Construction will be start in soon.
Zurich Airport of Switzerland to build JewarAirport.
Zurich Airport will be 3rd largest in world with 6 runways after Ohare of Chicago with 8 runways and Dallas/fort of Texas with 7 runways.
IGI and Jewar Airport will be connected through High Speed Metro and commuting time 2 hrs.
DMIC, DFC (dedicated Freight corridor), EPE and Yamuna Expressway will be connected.
Boraki Transport Hub will also be connected to JewarAirport.
Meerut will also connect to Jewar Airport through Rapid Metro.
Road Network will connect to Jewar with other cities.
Metro is operational up to Pari-Chowk. And will touch Jewar Airport by 2022.
Pod and Metro will be connected with Jewar Airport for better hi-speed.
Jewar will connect Delhi & Meerut with signal free roads
Jewar and IGI will connect through 40 kms elevated road
Jewar will connect via Rail to UP/Haryana/Rajasthan/Delhi-NCR UP release 250 crores for Jewar
Vivo to invest 4200 crores in Yamuna City in Sector 24
Hotels and Petrol Pumps to auctions along Yamuna Footprints to develop Mega Sports city near
Jewar to organize not only Asian Games, Commonwealth Games but Olympics as well Mega
Entertainment City of 500 Acres to develop nearSector227
Yamuna Expressway and EPE to connect soon
200 acres for Textile - investment 4000 crores
200 acres for Mobile - investment
200 acres for Handicrafts - investment 2000 crores
Reputed Schools, Institutes, Universities are there
ATM, Banks, Restaurants, Malls and good hospitals are also within 10 km diameter
U.P Govt. Speeds up work on Noida International Airport.
YEIDA auction land for 5 stars Hotels in Jewar 10 Acre each in sector 21, 28, 29. 28.
Apparel Cluster Park will be developed near JewarAirport.
Industrial Plots allotted to 400 Small Scale Industries in nearby Sector32/33.
Major names are Vivo/ Uflex / Intex/Patanjali (445Acre)
NIIT Technology and Vivo one Operational in IT Hub & TechZone.
Adani Group and a packaging company of Singapore looking land on Yamuna expressway.
110 acres land allotted to Oppo near project and expecting operations by end of this
year since stamp duty waived by authority with this condition.
WTC Seeks 600 acres land from YEIDA for commodity. Voltas and China companies will be investing in YEIDA. YEIDA planning to install Solar panel and Wind Turbine along
Yamuna expressway to make this area self-sufficient in power.
First Heliport near GBU are in Planning Stage
Complete Floor Plans
Brochure With Complete Project Details
Master Plan of The Project
Payment Plan of The Project
Picture Gallery of The Project